Confort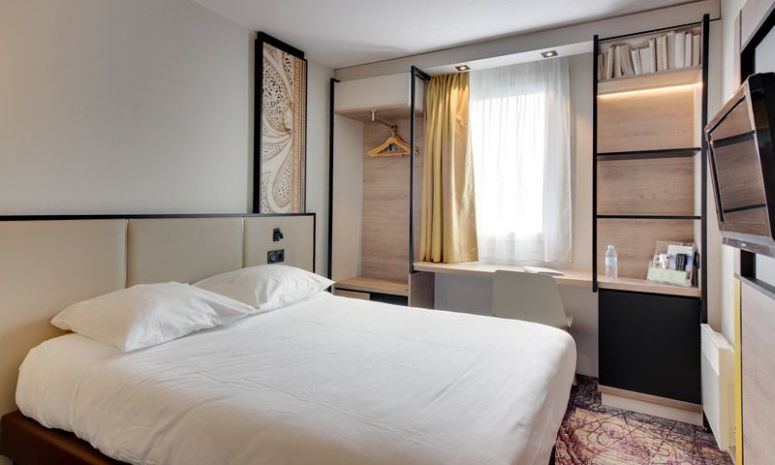 Our advantages
At the gates of Brest

5 minutes from the marina and the commercial port

Oceanopolis package (Aquarium)
Our rooms
Bedding comfort
The Brit Hotel Brest Le Relecq-Kerhuon has 43 very comfortable rooms, thanks in particular to its popular bedding (mattress and box spring) which is based on a restful sleep.

Parking

Free Wifi
Restaurant
The Brit Hotel Brest Le Relecq-Kerhuon offers 3 types of rooms between 14 and 16m² :
Twin rooms, rooms with 2 beds of 90cm each
Double rooms composed of a double bed of 180cm or 140cm.
3 communicating rooms, one with a double bed and the other with 2 twin beds
Rooms very well renovated, equipped and decorated!
All our rooms are equipped with a duvet so that you can sleep as at home. Your satisfaction through the comfort of our rooms and a quality service are our priorities. All of them also have a courtesy tray (hot drinks + biscuits) at your disposal.
Our rooms were renovated in 2017 and a modern decoration was suggested.
They all have a telephone with a direct line, a flat-screen television of 80cm enriched with DTT, Canal+, Eurosport, CNN and cinema+ and fully equipped bathrooms.
In your bedroom, everything has been thought to make your stay pleasant, large worktop, double glazing and cloak.
The little pluses of the rooms of the Kerhuon de Brest :
New bedding (mattress and box spring)
An office corner
A luggage rack
We have equipped our rooms with halogen lighting and a wall lamp for a soft and pleasant luminosity.
Finally, our welcome booklet will provide you with various tourist information about Brest
Our bathrooms are all fully equipped and very functional. They are equipped with a shower and a washbasin; many welcome products are available to guarantee your satisfaction.
Brest - Le Relecq Kerhuon
Near the hotel
Follow directions if you travel by car
. 5 min from Océanopolis (aquarium)
. 4 km from Francis Le Blé stadium
. 2 min from Moulin Blanc beach
. 2 min from Ikea
. 10 min from ZI Kergaradec (industrial park)
. 10 min from Brest city centre
. 5 min from the port
. 5 min from the marina
. 10 min from Francis Le Blé stadium
. 10 min from Brest railway station
. 10 min from Guipavas airport
. 10 min boat services to the islands
. 20 min from Technology Park (Technopôle Brest Iroise)
. 20 min from Penfeld Exhibition Centre

Access
From Nantes: Take Quimper N165. After the Iroise bridge, take the first exit Le Relecq-Kerhuon
. From Rennes: Take Saint-Brieuc-Brest N12. Take Quimper/Nantes N165 exit. Follow directions to Quimper at each roundabout.

Indice de
Satisfaction client
Pretty good. Other employees were polite and friendly.

Hotelier's response :
Dear Guest, The whole team thank you for your warm comment. It's a pleasure to see you again Céline - Manager
Read more

Hotelier's response :
Bonjour et merci pour cette belle note sabrina adjointe
Read more
Hôtel restaurant a recommander Excellentes prestations
Read more
Rapport qualite pric excellent
Read more
Very good stay between journeys. I will come back if i have a late flight in Brest again
Read more

Hotelier's response :
Bonjour Monsieur R., Un grand merci de la part de toute l'équipe pour votre commentaire!!! A bientôt au Kerhuon Céline - Directrice
Read more
SERVICE ET REPAS EXCELLENT
Read more
SERVICE ET REPAS EXCELLENT

Hotelier's response :
Bonjour! Tout d'abord je souhaite, ainsi qu' à toute votre équipe une belle et heureuse année 2017! Elle commence bien pour nous avec vos beaux compliments. A bientôt Céline - Directrice
Read more